Employment Numbers in Utah | January 2023
The Utah Department of Workforce Services releases data on current jobs and unemployment for the state on a monthly basis. Here is the latest employment data for the month of January 2023.
The unemployment rate increased slightly to 2.4% while the national unemployment rate dropped to 3.4%. Utah's unemployment rate remains among the lowest nationwide.
The job growth rate in Utah dropped is now at 2.8% over the last 12 months. The national job growth rate is 3.3%.
"Utah begins the new year right where the old one left off, with a strong economy employing large amounts of new labor," says Mark Knold, Senior Economist at the Department of Workforce Services.
You can listen to Knold's breakdown on Utah's January 2022 employment numbers, here:
Utah's Employment Data and the Staffing Industry
The Utah Unemployment rate is not currently under pressure, but is expected to grow higher due to the new wave of labor that graduated into the economy in the spring. This presents opportunity for employers and job seekers alike! The economy needs to create around 25,000 new jobs each year to absorb labor growth coming from population.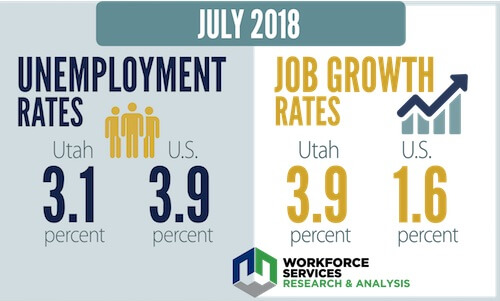 For now, Utah's labor market continues to be competitive. Finding workers and retaining the right talent continues to be a challenge.
Does your business employ a smart strategy to meet your labor needs? Your Employment Solutions (YES) is Utah's staffing and employment expert. YES supplies actionable data and analytics to help companies succeed in attracting and retaining quality labor. We are your trusted partner in helping you achieve your business and productivity goals. If you need assistance in your hiring efforts, contact YES today. We would love to be your employment solution.
To work with YES, please visit our Request an Employee page.
Cheers to Utah Jobs!
Eric Nelson
Director of Marketing
Your Employment Solutions
"I help connect Utah jobseekers to Utah jobs."
Follow YES on Social Media